I was chatting with my author friend, Bettina Hunt, on our Friday Facetime with G&T's, about writing novels. We started off comparing our different novel writing processes and then after a few more glugs of our G&T's we came up with this superb analogy about writing a novel. We likened it to going on a long car journey or even better a road trip.
After more glugs of our G&T's this post took shape and by the end of the call we were squealing with writing fuelled delight (nothing to do with our G&T's obvs). Once our call ended I raced downstairs and created this post.
Here's how to do this exercise:
Think of your car as your draft novel.
Your road trip ends once your draft novel is completed.
How your road trip goes depends on your writing process.
As with any road trip you run the risk of your car or in this case your draft novel breaking down. You then have to look at ways to get your car back on the road.
As with any road trip you, the driver or in this case the writer, can get tired, emotional, frustrated or fed up with your journey. You then have to look at ways at recharging your energy.
You have to stay motivated and focused on your road trip.
You run the risk of getting lost in your journey.
You also run the risk of taking an unexpected detour if you don't have a plan.
Your car can be full of luggage on a road trip and this can weigh your car down. We likened luggage to all the emotional stuff you take with you when you write a novel; those annoying questions: will anyone like my story? Will agents / publishers reject it? Am I good enough to write? What will happen to my story once it's finished? Some of us drivers travel light which means we are not weighed down with all this extra luggage and some of us struggle to get out of the drive to start our road trip as we have SO MUCH luggage.
Here are both of our novel writing journeys likened to taking a road trip:
Bettina's road trip:
I liken Bettina to the cartoon character Penelope Pitstop when it comes to writing. This is because she gets in her car, applies a good lipstick, puts her foot to the floor and heads for the end of her story.
Bettina is very focused on getting to her destination – the end of the story. She doesn't take unexpected detours, she doesn't stop for breaks in her road trip and she rarely glances into other lanes to see what others are doing. She also travels light. Bettina doesn't think about all those questions, and keeps heading for her end destination.
If her car does breakdown / story runs into problems she will do some free courses with Curtis Brown or she takes part in #VSS365 to spark her imagination.
So, Bettina's road trip would be:
Get in car.
Travel light.
Foot to the floor in terms of word count.
No stopping until she gets there.
Reach destination, finish writing story and apply new lipstick.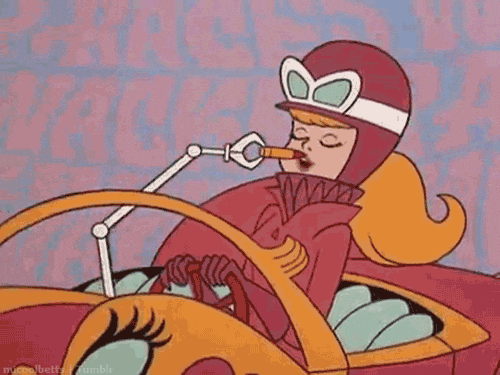 Lucy's Road Trip;
In my head my novel writing road trip looks like this below.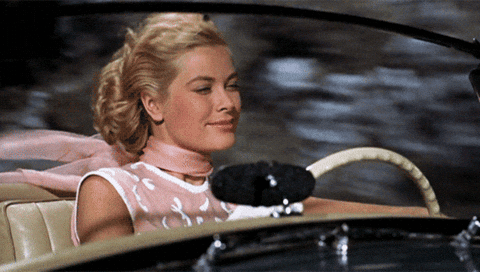 In reality this is much closer…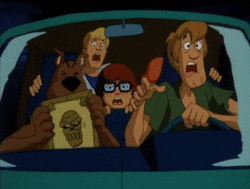 My road trips can be likened to the cartoon; The Adventures of Scooby Doo.
In my car I have all my fictional characters sat alongside me, all babbling away and lots of extra luggage.
From start to finish it's one crazy adventure.
Whereas Bettina gets into the fast lane on the motorway and drives at speed towards her destination; writing to the end of her novel, I take unexpected detours down country lanes. It can be frustrating but sometimes the detours turn out to be really valuable.
My road trips have many steep hills, lots of bumps in the road and I can drive around in circles – especially at 17k and 32k words. In every novel I struggle at the same places.
If my van breaks down then I will take a break from driving and go binge read a ton of books. I will also do a lot of housework. My brain often comes up with the solution to my story issues but needs time to think.
I'm a big believer in taking regular breaks during my road trips. I've learnt (the hard way) that a lot of the time my brain is simply tired and needs a rest.
I also carry a LOT of luggage. Unlike Bettina I don't travel light. All my writing worries are loaded into the back of my van. I will say that on my second novel writing journey I have followed Bettina's technique of travelling light. She has helped me unpack a lot of my luggage and it has really helped. Travelling light is the answer.
So, my road trip would be:
Get in van along with all my fictional characters.
Pile as much luggage on the top as possible.
Take a few detours.
Re-trace my steps.
Reach destination, finish writing story and collaspe 🙂
Everyone's novel writing journey is different and there's not a wrong or a right way. Just as long as you reach your destination.
I hope you've enjoyed this fun packed post. Please let me know what your novel writing road trip looks like?