It's not easy being a writer. We find ourselves drawn to tweed based outfits, berets, Twitter, book shops and attractive notebooks. We stare into space a lot, walk around with pencils tucked behind our ears, go a bit crazy after our morning coffee and have intense conversations with invisible folk.
One of the problems a writer can face is that their invisible friends can multiply inside their head at an alarming rate. Once a writer has several stories under their belt, their head can be overrun with fictional people. Overcrowding is not the only issue, fictional characters can also be noisy, disruptive and demanding.
If you are a writer like me, who struggles to say goodbye to her characters once the story has ended, you might find you are living out your life with what feels like a small crowd inside your mind. Has your head ever felt like this…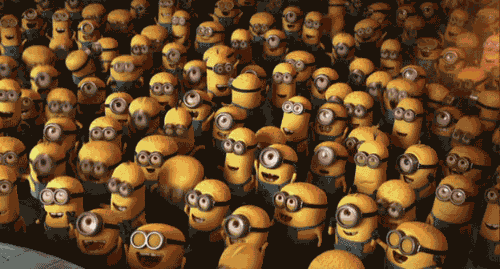 I find it hard to say goodbye to characters once a story has ended. People say I am crazy but in view of the amount of time I have spent with these characters, its difficult to break the emotional bond.
Sometimes I wonder whether there is a reason why a character lives on inside your mind long after you served them notice. Does it mean you have unfinished business with them? If you publish a story – do the characters disappear?
There are one or two of my characters who I call upon when I feel blue or grumpy. The mere thought of them always brings a smile back to my face. Creating a couple of funny scenes in my head with these characters has helped me through a number of stressful life situations.
The big question for me recently has been how do you go through daily life with so many characters living inside your head?
After a bit of research I have come up with the following:
Know when you have an overcrowding problem. I know my head is too full and a good indicator of this is work rate. My work rate has slowed because I am getting distracted with the noisy crowd of fictional folk inside my head.
If you are not working on their story they have to go elsewhere – a folder on your laptop or a paper file. This is a tough one for me but I know this is the answer to a clearer mind. I have to break those emotional ties, issue them eviction notices and move on.
Accept they are not going anywhere. Just because you have sent them to a paper file in your cabinet doesn't mean you won't see them again. They will always be there for you.
You have to give new characters an equal chance. Your old character had their moment of literary limelight and for whatever reason things have ended. It's now the turn of your new character.
You have to stop trying to do too much. I am guilty of this. Working on a number of different projects with an array of characters is doing my brain no favours.
Dare I say it – but I think too many characters inside your head is a form of procrastination. I love calling myself out on stuff – sigh! At the moment I am wrestling with a difficult first draft and hey presto – I have a head full of characters from other stories! Yay!
It's no fun living with a head jam-packed full of characters. If you are struggling with this, you have my sympathies.
Let me know if you have overcome this problem.
Take care out there my lovely readers.