Before I started my blog I hated statistics. Bar graphs did nothing for me and the only random facts I held in my head were the number of times I told my kids not to do something and the number of chocolate bars I managed to sneakily eat whilst no one was looking.
Then I became a writer and launched BlondeWriteMore.com. Overnight I ditched the parent metrics and the snack tally. There were more important things to think about like my growing blog stats addiction.
Blue bar graphs featured heavily in my dreams, I would check my stats many times a day and I would give constant updates to my uninterested loved ones.
"Oh my goodness I have had 11 more views than I did this time last week!" I would shriek from the kitchen, proudly clutching my phone.
"Crikey – I have had 6 extra visitors this week," I would scream, staring at my phone and then putting it down to do cartwheels around the garden.
I spent most of my first two years of blogging obsessing about my stats and ended up looking like this…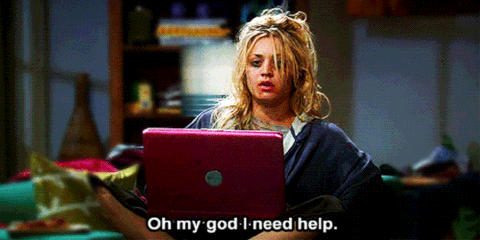 No matter how hard I tried I couldn't stop over thinking my viewing and visitor metrics.
Even worse my blog stats dictated my mood swings. If the bar chart was showing an upward trend my mood would be joyful and pleasant. If the bar chart was showing a downward trend my mood would be dark and sinister.
Then a good friend advised me to stop obsessing.
She told me magical things would happen if I stopped checking my WordPress stats tool.
At first I didn't believe her at first but once I did listen (took me twelve months) I found she was right.
Here is a list of things that happen once you stop obsessing about your blog stats:
You create more room in your head for other stuff. This is true. Once I stopped checking my stats tool more ideas for stories and blog posts came my way.
You enter that magical blogging state of 'I don't care who is reading my blog because I am just going to write posts that make me happy or challenge me creatively.'
You start producing great content. My post quality improved once I stopped obsessing about stats.
You have more time to visit other blogs and check out other bloggers. Connecting with other blogs is so valuable and I can't stress the importance of this.
You realise blogging is not about visitor or view numbers on a bar chart, it's about human interaction.
You sleep better at night and there is not a bar graph in sight within your dreams.
You become happier and so do those loved ones who have to live with you.
You won't bore people silly with your latest blog stats.
Your moods will return to being dictated to by hormones, sugar intake and romantic urges.
Your blog will start to grow.
So, put that blog stats tool away and learn to love blogging life again.
Have an amazing day!
Photo by Matheus Ferrero on Unsplash